Poll Designer allows you to create four different types of poll screens within your poll: Information, Standard Input, HotSpot Input and Lead Input screens.
Information screens do not ask questions or collect data. Instead, this screen type is used to provide instructions or other information to the respondent.
Standard Input screens use Windows-style buttons to record the respondent's choices. As a result, the appearance and use of the screen should be very intuitive to most respondents. These screens allow you to ask multiple choice questions where the respondent chooses one or more of the answers displayed.
Hostspot Input screens display an image with specific zones, called "HotSpots", that act like buttons. To make a choice on these screens, the respondent selects one of these Hotspots. For example, a screen could contain an image of a map of countries with each individual country identified as a HotSpot, and the respondent could select his/her country of origin by selecting the country HotSpot on the map.
Lead Input screens gather textual information from the respondent. The respondent uses a virtual keyboard to enter text into one or more input fields. These screens resemble a form in which the respondent provides free-form answers to questions in the text fields on the screen.

As you create or edit a poll screen, Poll Designer enters design mode and displays a full-screen view of the poll screen that you are currently designing (figure 1). Therefore, you see exactly how your polling screen will appear to your respondents as you create it.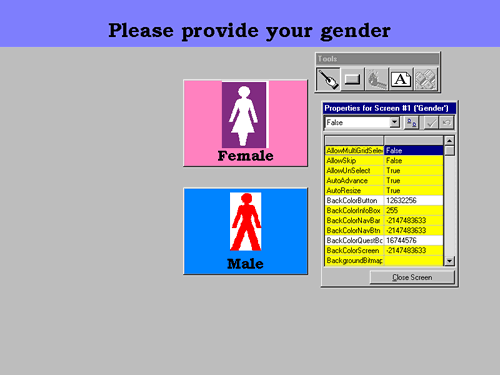 Figure 1: Poll Designer - Design Mode
You control the various properties of your poll screen and the elements (e.g. buttons) on that screen through the Properties Grid (figure 2). This tool allows you to dictate the look and layout of your poll screens. Through the Properties Grid, you can specify:
the visibility of screen elements, such as buttons, question text, informational text
the look and content of text on the screen and screen elements, including color, size, format, font and alignment
the graphics displayed on the screen and screen elements
the colors displayed on the screen and screen elements
the size and location of screen elements
the sounds played when the screen first appears or the respondent selects buttons.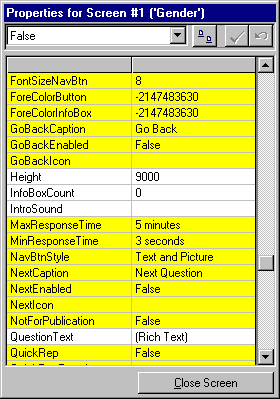 Figure 2: The Properties Grid

When modifying individual screen properties, the Properties Grid provides intuitive dialog boxes that make the design process easy. You can control minute details of your screen's appearance without any programming experience or knowledge.

Return to Poll Creation.