Once you begin to create polls with Poll Designer, you need a tool that allows you to easily organize and maintain these polls. The Poll Manager application provides the functionality that allows you to manage your polls from a single, central location. From the Poll Manager Quick Pick Screen (figure 1), you have instant access to the most important functions related to your polls.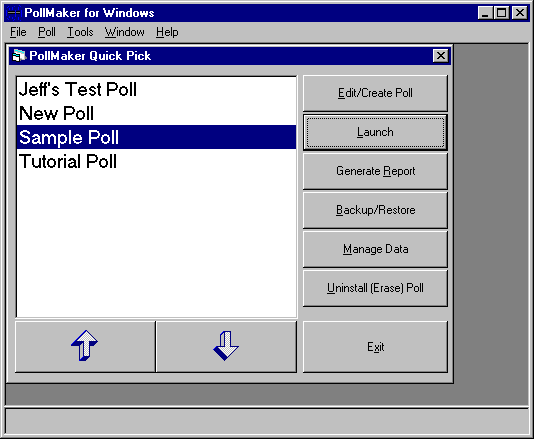 Figure 1: Poll Manager Quick Pick Screen
The functionality provided by this screen includes:

Edit/Create Polls - open the selected poll in Poll Designer for editing. To learn more about editing polls see Build Poll Screens.
Launch - launch the selected poll with the Polling Engine. To learn more about starting polls from Poll Manager see Run Polls.
Generate Report - run a report against the selected poll's response data. To learn more about running reports see Poll Reporting.
Backup/Restore - back-up a poll to or restore a poll from an attached disk drive. See below.
Manage Data - perform routine data management activities on the selected poll's response data. To learn more about data management see Manage Data.
Uninstall (Erase) Poll - erase a poll and all of its related data.


Back-up & Restore Polls

To make back-up copies of your polls and to distribute a poll to different kiosks, you must use the Backup/Restore functionality provided by Poll Manager. Choosing the Backup/Restore button on the Poll Manager Quick Pick Screen launches the Backup/Restore Utility (figure 2). From here, you can create a back-up copy of a poll, restore a poll from a back-up copy or merge a back-up copy of a poll with an existing copy.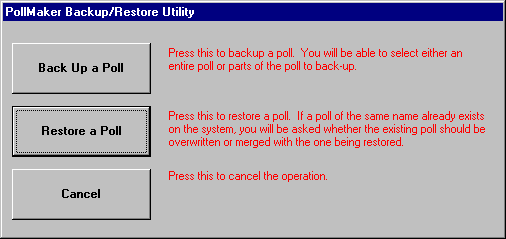 Figure 2: Backup/Restore Utility Window
When you create a back-up copy of a poll, you have the option of backing-up the poll and its response data, the poll only or the response data only. The back-up copy can be written to any internal or external disk drive to which the kiosk has access. When you restore a poll from a back-up copy, the Backup/Restore Utility checks on your machine for a poll with the same name as the back-up copy. If it finds such a poll, you have the option to overwrite the existing poll and its response data or merge the back-up and existing response data (the existing poll is unchanged).

This utility is extremely valuable in an environment where you have the same poll running on several different kiosks but wish to consolidate all poll response data in a central location (master computer). With the utility, you can merge all of your response data on the master computer by creating back-up copies of the response data only on each kiosk and then restoring each response-only back-up copy on the master computer with the merge option.


Block Out Times

An additional PollMaker option for managing individual polls is the use of Block Out Times. This feature allows you to manage the availability of a poll to respondents. A Block Out Time is a range of time during which respondents are not allowed to take a poll. Block Out Times are defined on the Block Out Times Dialog in Poll Designer (figure 3) as a range of time for a day of the week. For example, you can specify that a poll is not available between 5:00 and 11:30 on Saturdays.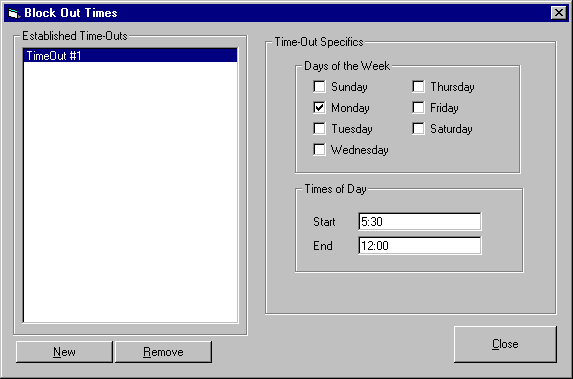 Figure 3: Poll Designer Block Out Times Dialog Box
If a poll is running when one of its Block Out Times is reached, the current respondent, if there is one, will be allowed to finish the poll, but then the Polling Engine stops the poll and displays a message ("This Kiosk Is Temporarily Unavailable") until the end of the Block Out Time is reached. At that time the poll resumes, and respondents may once again take the poll.

Return to Poll Management and Execution.